VPN Client is a Mac application designed to provide you with a secure channel which connects your Mac computer to any web resource. This means that when you are online, a virtual tunnel blocks any extraneous attempts to hack your information. So your personal or business correspondence, Skype or telephone conversations and other personal data are protected from being viewed even by your internet service provider (ISP).  All your data is encrypted.
Moreover, VPN Client allows you to change your IP address to any other from a panel of local VPN servers worldwide as well as unblock websites and tune into video streamings and social networks that are unavailable in your country.
Mac VPN Client contains a wide variety of features to ensure the best VPN service. In this article you will find best practice recommendations for VPN software for your easy, secure and quick private internet access.

Optimal VPN Server – connect to private tunnel easily and quickly
One of the most frequently asked questions is which VPN server is the fastest. In fact, there are various factors that impact the VPN connection speed such as the remoteness of the VPN server, occupancy, protocol connection and others. Fortunately, with VPN client app you don't have to worry about all these factors. Use as provided by the app Optimal VPN Server option which automatically finds and shows the fastest server for your location. Read more about how to use Optimal Server.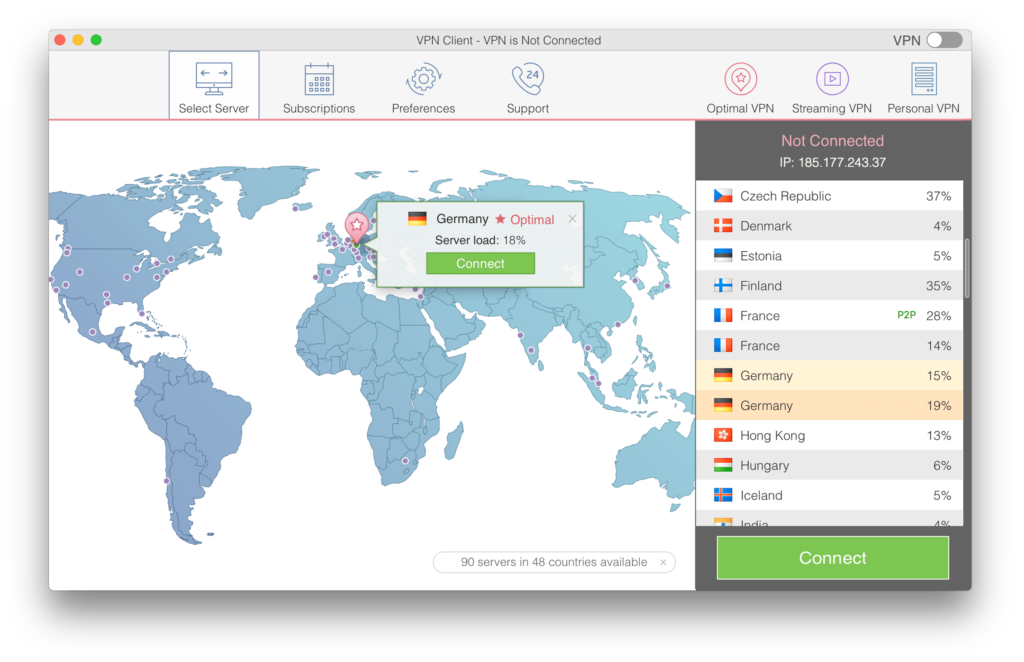 Enable VPN Client app auto-running at Mac startup
Most likely, each time you switch on or reboot your Mac computer, your frequently used apps run automatically. You should also add VPN Client to the list of login items, so you will not forget to turn on the virtual private network and secure your online activity when you use the Internet. It will save you time and eliminate the need to repeat the same action every time. There are three ways to make VPN network launch automatically at Mac login.
1. Open the application's main window → go to Settings → tick the option Run on Startup.
2. Click on the application's icon in the Menu bar → then click the Settings icon →  tick the option Run on Startup.
3. Open System Preferences → go to Users & Groups → Login Items → add VPN client to the list of login items.

Use the "Connect on Demand" option for constant private browsing and secured data transfer
Once this option is enabled, whenever you use the Internet, your VPN connection will be turned on automatically. This means that all your traffic will be encrypted with VPN Client and all your data will be sent only through a protected VPN tunnel. In this way you can keep yourself secured by default in case you forget to connect with VPN provider.
For this, open the VPN on Mac → switch to Settings tab → tick the option "Connect on demand."
Another way to enable this option is to go to quick access window of the application.

Use Streaming Server for your best online video streaming experience
Besides ensuring VPN security, VPN Client provides a Streaming VPN Server feature. This means that you can easily watch your local TV shows, online sports cups, news and so on at Hulu, BBC, Amazon, HBO and other popular video-streaming channels. When you are traveling or are not in certain countries, you can access a broad range of favorite online streaming services and bypass regional restrictions by changing your IP. Just enable the Connect Streaming tab in the application window and you will see an available streaming server for the selected VPN provider location.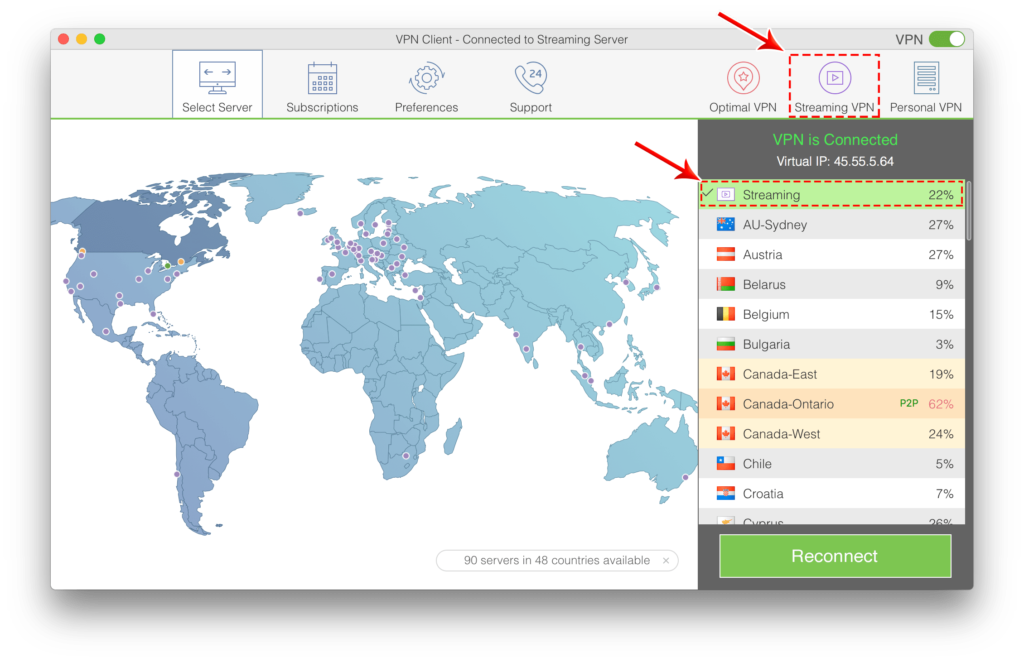 Get Personal VPN for a better-secured Internet connection performance
VPN Client provides 90+ proven VPN servers across the world so that you can change your virtual IP address to any available country. However, as we have mentioned before, the connection speed depends on the number of server users. That's why for those who need a guaranteed lightning speed service, a static IP address and unprecedented private internet access, we recommend using Personal VPN Servers. In this case, only one user can connect to the dedicated VPN server. The traffic is not shared with other VPN users, and the IP address has a pure history and a higher trust level from websites. You can get your own server right from the Subscriptions section of the app's window.  Read more about Personal VPN Servers.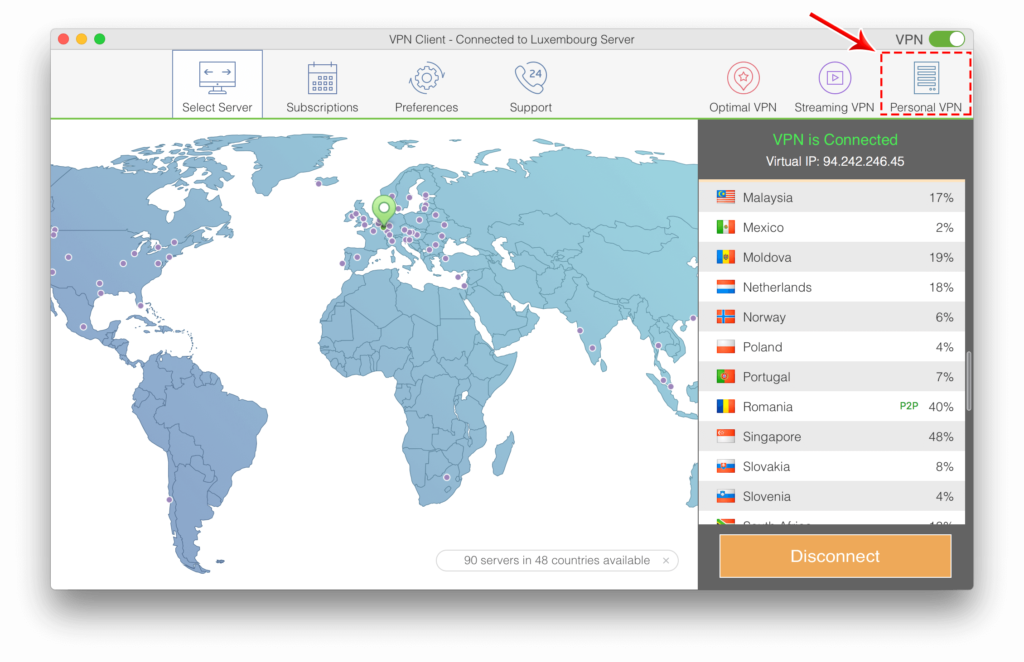 Enjoy secure online activity wherever you are – at home, office or any public place
No matter where you use the Internet, we recommend you always protect your privacy with VPN software. You can use one VPN Client account on up to 5 Mac computers simultaneously.
You are able to have a VPN security for your family members at home, to secure business correspondence at the office and prevent your logs, credit card details and other private data from being hacked while you are using public Wi-fi hotspots at cafes, airports, hotels and so on.

Protect your privacy. Get the best VPN Service right now!