Streaming content online is becoming incredibly popular, and when it comes to viewing your favorite sports event or TV show, using a VPN may make the process possible if streaming is blocked or limited in your region.
With VPN Client, you can select any of 90+ VPN servers to bypass geo-restrictions and access blocked streaming channels in any location and at any time.
What is Streaming?
The principle of online streaming services is transferring content from the provider to the user. All the content has been already downloaded to a third-party server so that the end user does not need to download anything for viewing or listening.
Live Streaming
When the content is broadcasted in real time, we call it live streaming. Live Streaming is mostly used for sports, concerts and other one-time events.
Game Streaming
Besides audio and video delivery, there are video game streaming services, which allow playing games without reference to one particular location or device.
Music and Video Streaming
Today, almost no one downloads music albums or movies, because it's more convenient to subscribe to online streaming services. You can access all this content whenever you want and avoid cluttering your device's storage space.
Most Popular Streaming Websites

Netflix

Youtube

BBC

Hulu

Vimeo

Amazon

Twitch

Playstation Vue

CNN

Spotify

Apple Music

Napster
While Netflix is mostly used to watch movies, the Twitch service is intended primarily for game streaming lovers. Also, the possibility of online streaming is provided by such popular platforms as Facebook, Twitter and Instagram.
Access Streaming Services Wherever You Are
When you are traveling abroad, you often are unable to watch your favorite TV channels. But there is an easy solution for that. Replacing your IP address with a VPN software will allow you to access home TV shows or watch regional streams which are unavailable in your country.
When you change your real IP address to a virtual IP address, the streaming service sees you as if you were located in another country and shows you the content of the appropriate country. For example, you are in the United Kingdom and would like to watch online sports featuring USA Cup games. Just connect to the USA VPN server and enjoy your sports watching.
Pick The Best VPN For Streaming
When choosing the best VPN for streaming, you should pay attention to the following aspects:
Fast VPN speed.
A large number of VPN servers, so you can access any regional content.
Access to Streaming servers.
No logging policy of your data for guaranteeing online privacy.
Unlimited monthly traffic volume.
If you are looking for a VPN that works with Netflix, Hulu and so on, the VPN Client app is what you should try first. Unlike its 90+ VPN servers around the world, the application provides a built-in Streaming Servers option so that you can connect to regional stream channels with just one click.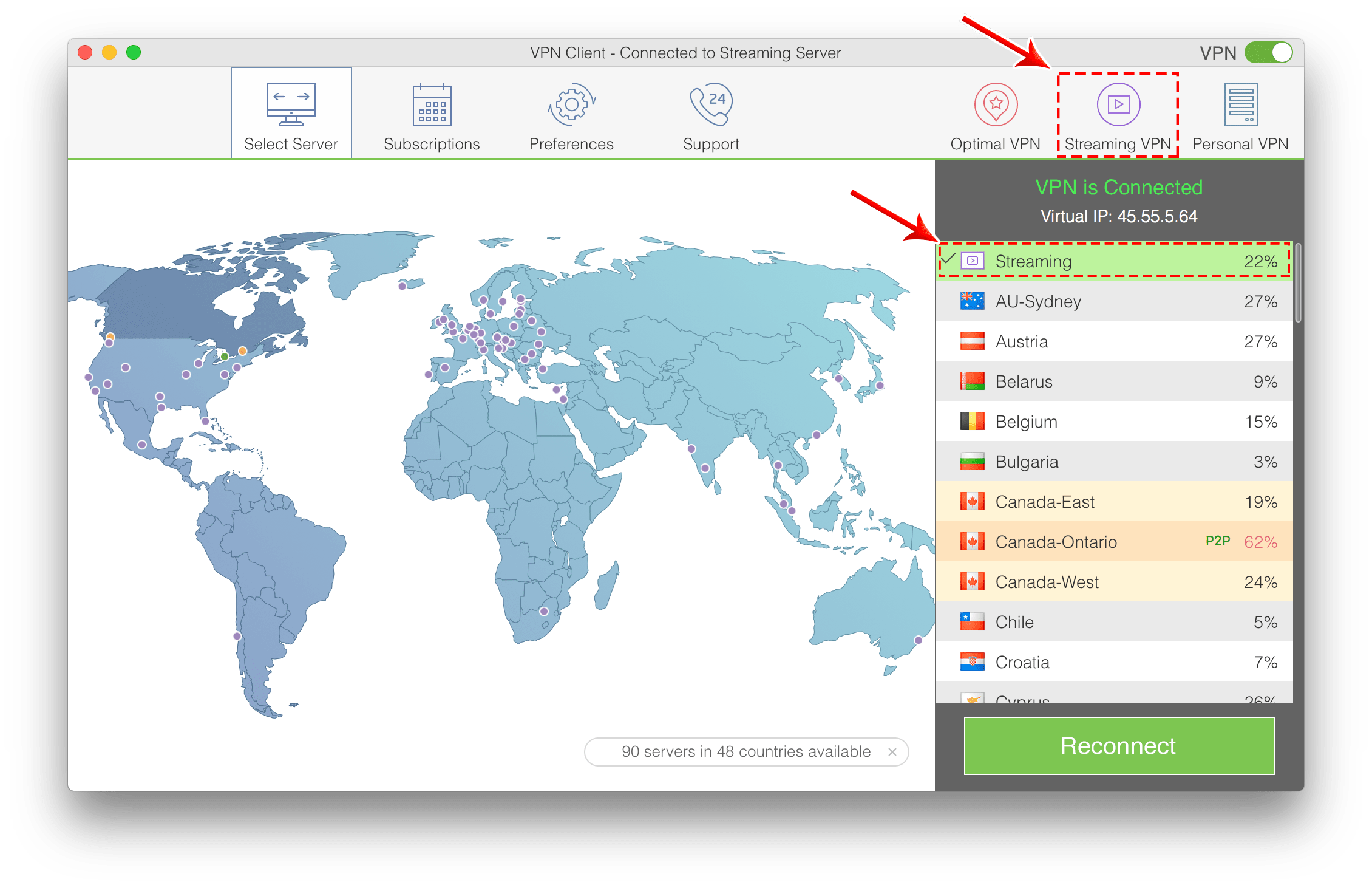 VPN Client is the fastest free VPN for streaming as it provides a Free 7-Day Starter Plan for all new users.
Additionally, VPN Client provides Personal VPN servers on demand, which compared with shared servers, can brag of a much higher speed. Also, with a Personal VPN server you get a dedicated static IP, so if your account on a Streaming resource is connected with your IP, you can access your favorite websites with no worries.
Articles you may be interested in