Can I use VPN Client for free?
Yes. VPN Client allows you to have private Internet access absolutely free for a 7 day period. Free VPN Trial provides unlimited VPN bandwidth.
How many devices can I use with VPN Client?
Up to 5 Mac computers. You can use one VPN account on five Macs simultaneously.
How to purchase VPN Client subscription?
Open the VPN Service app window → go to Subscriptions tab → choose your prefered plan and click Get Now button.
Do you provide discounts if I subscribe for a longer period?
Yes! We offer different terms for subscription plans ranging from 7 days to 3 years wirh discounts of up to 85%. The longer the term you choose for VPN server software, the bigger your discount. For more details check out our Pricing page.
How do I set up VPN Client on Mac?
With VPN Client it's easy and fast. All you need for a Mac VPN setup is to launch the application → in the app's main window select the region from the list of Server locations → Click the Connect button. For the initial use, the system will require you to confirm the installation of the VPN connection profile. Verify the profile setting, and now you can connect to the selected VPN server. It is possible to connect to VPN in one click right from the Menu Bar or from the app's main window. Learn more >>
Can I select the VPN server location?
Yes. VPN Client shows all available server locations on the map and provides a list of these countries for your convenience. It also shows the optimal server for your location. Just choose the one that suits you and click Connect.
Can I change my account password?
Yes. Go to Preferences tab → click Change Password in the bottom-left corner → enter your old and new passwords → confirm your action.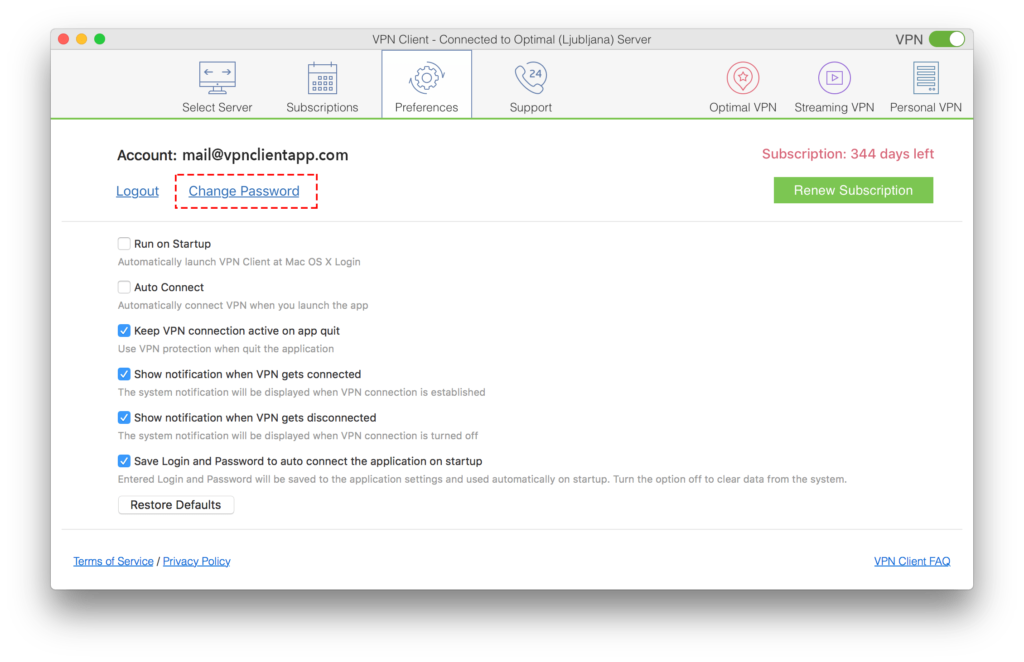 What if I have forgotten my password?
If you can't remember your account password, don't worry. We provide the possibility to reset it. Please click Forgot Password, type your email address and Submit. Or contact us at support@vpnclient.com, and we will send you a new password that you can change later in the Preferences tab of the application.