How can I check that my VPN connection is turned on?
After you have successfully installed our private VPN service, you will see the appropriate app's icon on the Status bar. When you connect to VPN, there is a distinctive sign that appears on the icon so that you know that the virtual tunnel is turned on.

Also, there is a switch button in the top-right corner that shows the VPN connection status. If it has a green color, then VPN is enabled.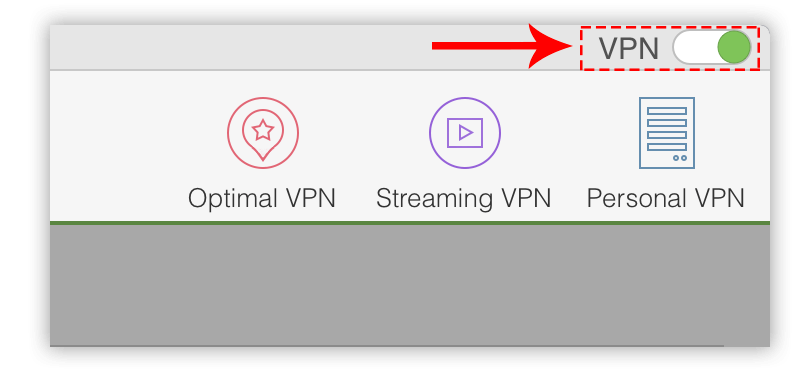 And finally, if the connection is enabled, then in the main window the green Connect button is changed to orange Disconnect button.

Do you offer static or dynamic IP addresses?
With VPN Client app you can connect to different VPN servers from the list of available regions. Each time you select a new virtual location, you get a new IP address. Even if you select a previously used location, you may get the IP address you connected to before, or a new one. It depends on the server load. For those who need a fixed IP, we offer Personal VPN Servers which provide you with static non-changeable IPs.
How do I check my IP address?
Click VPN Client icon in the toolbar of your Mac. In a drop-down menu you can see your Real and Virtual IP addresses. The Real IP is the address that is seen when VPN is turned off. The Virtual IP is the address shown when VPN is enabled. It is possible to determine the user device location by its IP address. However, If you use OS X VPN Client, your real IP will be changed to another one, depending on the selected server location.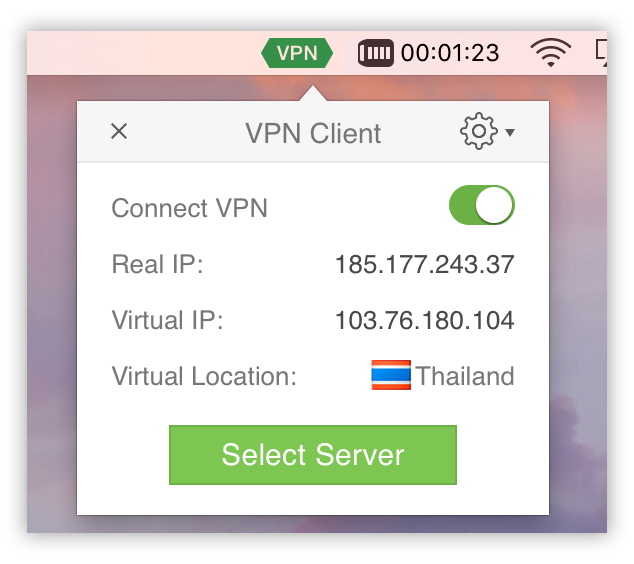 What are the minimum system requirements?
To use VPN Client, make sure your Mac meets the following requirements:
 Mac OS X 10.11 or later
64-bit processor
4 GB of RAM
Does VPN Client app collect user data?
We highly respect your privacy and DO NOT collect any user's private data. For security and troubleshooting reasons, we log only access attempts to our servers, user session durations and the bandwidth used to provide you with the detailed information of your activity. We also monitor user clicks made to our software to track popularity and assist in application and service improvements. We do not give your personal data to any third party. Learn more about it on Privacy Policy and Terms and Conditions pages.